The Shop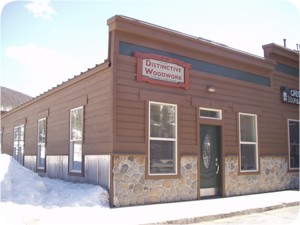 Located in picturesque Breckenrige, any vacation is a reason to stop by. If your vacation home needs a new kitchen, if you're condo needs custom cabinets, or if your business is looking a little run down, we're near by and ready to make your home a custom retreat. Please take the time to view our galleries to see the wide variety of solutions we can provide.
Who we are.
Distinctive Woodwork is a small but full service woodworking business. All woodwork is custom and hand made by Geoff Palmer.
We build and install kitchen and bathroom cabinets, entertainment centers, bookcases, shelving, mantels, mudroom cubbies and benches, and more.
We also build, repair, and refinish solid wood furniture.
We can build from an architect's blue prints or supply the customer with our own design. Discussing function and placement of the piece, wood species and color, and specific design qualities are all part of our servce.
Complete Kitchen
Entertainment Centers
Restoration